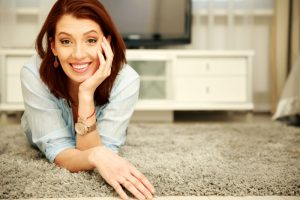 Caret flooring is as popular as ever with homeowners, because it's inexpensive and goes with pretty much any interior décor look you can think of. What's more, it's comfy to walk on, and retains heat much better than other types of flooring. However, carpets do come with their own set of problems- most notably, the fact that they can easily pick up stains. Small spills quickly add up into big marks on the carpet. Not only do they spoil its appearance, but they could also become a health hazard if they aren't cleaned up promptly. For that reason, it's best to clean up a spill as soon as possible, using household carpet cleaners to blot out the stain before it can take root. You'll also want to vacuum your carpets at least once a week, so that you get any stray dirt and dust before it can build up into a bigger problem. In areas that you walk on a lot, such as your living room and hallways, a twice-weekly vacuum is recommended.
On top of these general care guidelines, we've also got a few stain removal tips on how to lift certain stains with ease. For instance, contrary to popular believe, wine stains can't be removed with more wine. Instead, you should pour a mix of cold water and salt over the stain to get it out of the carpet, and then vacuum up the residue.
In the case of water damage (or in extreme cases, flooding), you'll want to get a professional carpet cleaning company to look things over for you. They will make sure every spot is cleaned up, and not leave anywhere for mildew and mold to build up that may cause for the stain to reappear. It's also a smart idea to have any parts of your carpet that are stained by pet accidents cleaned by the experts, too.
If your home is fitted with plush carpeting, then you'll want to up your vacuuming routine to twice a week. Areas that see a lot of use should be vacuumed in a diagonal manner, in both directions, and then repeat that process a few times to make sure you get everything out.